RS 8409-1792-71181847-3 4
Edit
This planet is a Warm Terra with an interesting rainbow ring system. It harbors no life. It is located within the Milky Way
Edit
Warm Terra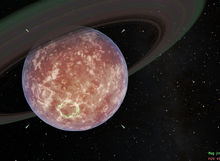 Diameter:
Edit
13929.090 Kilometers (1.0919 diameter of Earth)
1.4939 masses of Earth
0.918
Orbital Period:
Edit
7.473 Years
Rotation Period:
Edit
13h 40m 42s.52
1.2529 g
Atmospheric Pressure: 
Edit
2.2367 atm
Temperature:
Edit
306.88 Kelvin 
Greenhouse Effect:
Edit
84.028 Kelvin
8 
White Main Sequence Star (Binary)
Ad blocker interference detected!
Wikia is a free-to-use site that makes money from advertising. We have a modified experience for viewers using ad blockers

Wikia is not accessible if you've made further modifications. Remove the custom ad blocker rule(s) and the page will load as expected.