RS-1229-171-7-1506010-392 3 is a warm terra with life (multicellular marine, and terrestrial) planet, 3rd from it's parent star, a single yellow dwarf in the inner ring of the Triangulum Galaxy. This star system is one of many that are in the center of an interstellar cloud. RS-1229-171-7-1506010-392 3 has an average temperature of 52 degrees centigrade, and a greenhouse effect of 1 degrees, nearly non existant. This planet has 5 moons, but one large moon that orbits very close to its parent at only 18,000 KM. The atmosphere of this planet is very Earth-like, consisting of mostly Oxygen, Nitrogen, Water, and Carbon Dioxide. This planet has an orbital period of 187 days, and rotates on it's axis every 20 hours.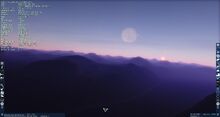 Ad blocker interference detected!
Wikia is a free-to-use site that makes money from advertising. We have a modified experience for viewers using ad blockers

Wikia is not accessible if you've made further modifications. Remove the custom ad blocker rule(s) and the page will load as expected.